Ferndale Electric Company provides innovative, high-quality, specialized electrical services to our customers for every project, every day.
We do this by:
Providing a safe worksite for all employees and partners.
Promoting and supporting growth of the electrical contracting industry.
Giving back to the communities in which we live and work.
"We do the difficult jobs others can't or don't want to do."
How we began
In 1949, our founder, Orville Ashley, moved from Canada to Detroit to work for Detroit Edison. Over the next few years, he increased his skills and became an electrician specializing in industrial and utility construction.
Ten years later, In 1959, with a lot of entrepreneurial spirit, Orville left his job to launch Ferndale Electric Company, Inc. with Detroit Edison being his first major customer. In fact, Detroit Edison remains one of our major customers today. This marked the pivotal moment of making Ferndale Electric Company a reality.
Art, Orville's son, joined the Company in 1967, working in the field and later in the office. Ferndale Electric grew exponentially through the '70s and '80s as Orville and Art pursued niche markets where there were opportunities for growth and limited competition.
In 1983, Art assumed leadership of the Company. As the '90s rolled in and the automotive market was booming, Art's strategic vision and leadership guided the Company in further expansion into other markets, including health care, electronic security and homeland security.
In 2017, the ownership of Ferndale Electric was assumed by the executive management team of John Hillock, P.E. (President), Paul Ferguson (Vice President Estimating), Joe Pontone (Vice President Systems Integration Division) and John Toloff, C.P.A. (Vice President Finance). This team is made up of long-term company leaders who are looking to the future while building on the legacy of success created by Orville and Art.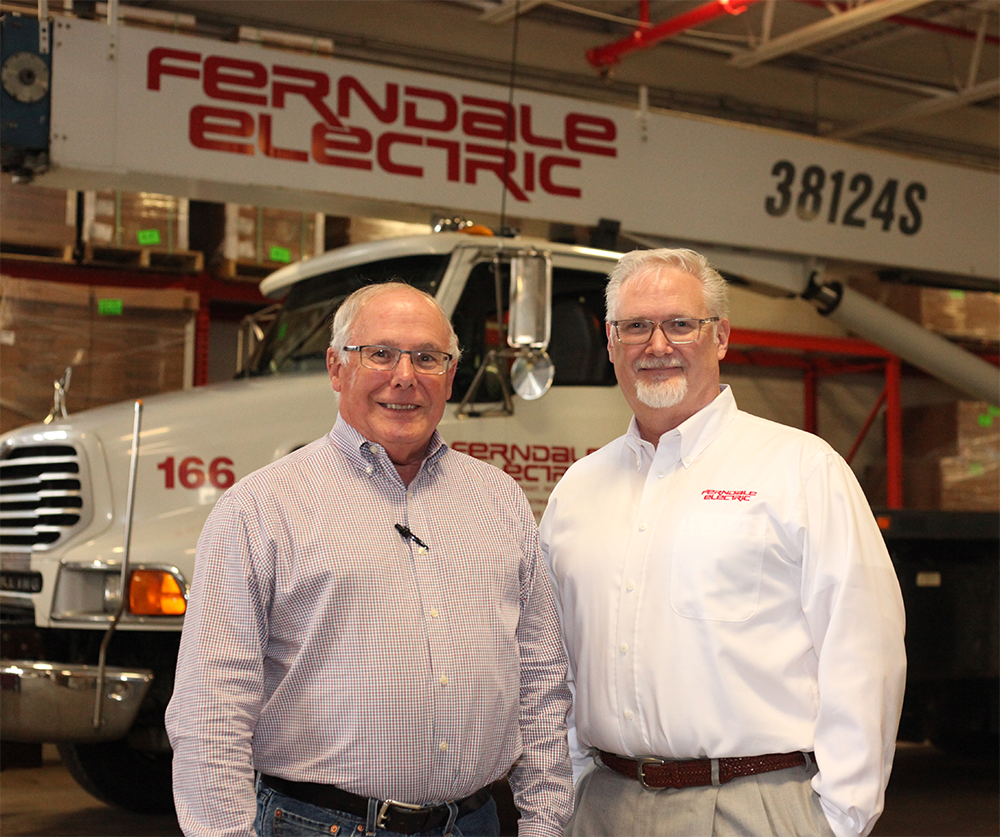 Art Ashley, Chairman and John Hillock, President.
OUR HISTORY
We are focused on the future, but haven't forgotten what got us here.
1957
Orville and Antoinette start a side business in the family home basement and garage.
1959
Orville quits his full-time job to launch Ferndale Electric Company, Inc.
'60's
First major customer is Detroit Edison. Expansion into Industrial market through first automotive customers.
'70's
Expansion into infrastructure, health care and institutional markets.
'80's
Growth into transportation market through airport and MDOT projects.
'90's
Systems Integration Division (SID) wins national contract with Fortune 500 company to design, engineer and maintain its access control, CCTV, time-keeping and fire systems nationwide.
2000's
Continued growth in health care market. Diversification into homeland security market. Expansion into pipeline and gas storage facilities.
Today
Continued service of traditional markets while seeking new opportunities and leading our industry.